Pacific Regional Workshop on Enhanced Transparency Framework (ETF) and Modalities, Procedures and Guidelines (MPGs) under the Paris Agreement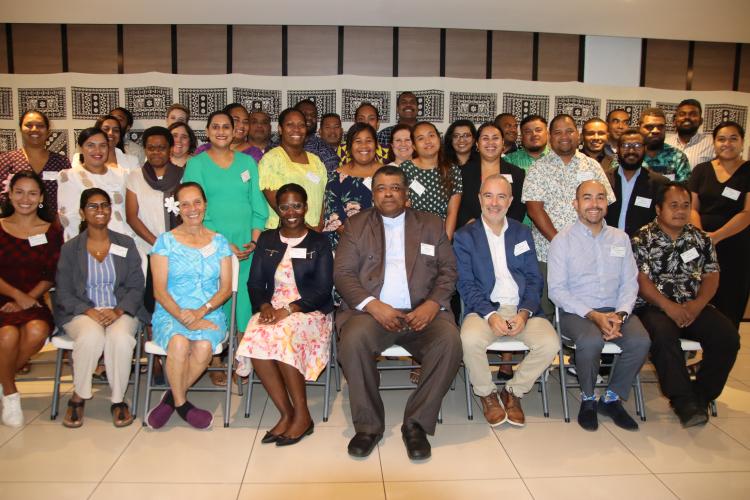 BACKGROUND
The Paris Agreement signified an important turning point in climate change negotiations as the global community recognized the urgency in facing climate change and agreed on a goal of "holding the increase in the global average temperature to well below 2 degrees Celsius above pre-industrial levels and pursuing significant efforts to limit the temperature increase to 1.5 degrees Celsius above pre-industrial levels, recognizing that this would significantly reduce the risks of impacts" (Article 2). 
Article 13 of the Paris Agreement is critical to implementation, as it provides the outline for an enhanced transparency framework (ETF) for countries related to the actions they take related to climate change and transparency related to the support that they provide and receive. The ETF represents an important component of the ambition cycle of the Paris Agreement by building trust and confidence that countries take action to meet their Nationally Determined Contributions (NDCs) which define their national climate targets and actions. 
Since 2020, all countries are expected to begin to comply with Article 13. The advent of ETF presents an opportunity to streamline measurement, reporting, and verification (MRV) activities related to climate change by approaching the common elements of transparency activities in a holistic way. This approach can reduce the time burden and financial burden on developing countries based on their national circumstances. 
The ETF provides detailed guidance on the reporting, review, and consideration process for the information to be submitted. The ETF further requires these reports to be publicly available to track the progress made by each country. This gives the ability to compare country action against the plans and ambitions described in the NDCs.  The ETF is made operational through a detailed set of modalities, procedures, and guidelines (MPGs). 
The CBIT Global Support Programme (CBIT-GSP) which is a Programme funded by GEF, implemented by UNEP and executed by the UNEP-Copenhagen Climate Center and the Government of Fiji will organize a three-day workshop from 23 to 25 August in Suva, Fiji, focusing on the provisions of the Enhanced Transparency Frameworks and its Modalities, Procedures and Guidelines (MPGs). The workshop will provide participants with knowledge in all areas of MPGs (Mitigation, Adaptation and Support) to build capacity for the transition towards the BTR. 
OBJECTIVE
This workshop is a technical training on the ETF and the MPGs and aims at: 
• Enhancing technical understanding of country experts responsible for climate transparency and national reporting under the Paris Agreement. 
• Informing the participants on the current reporting requirements for NDC tracking, adaptation and impacts, climate finance and ways of implementation. 
• Exchanging experiences, lessons learned and common challenges among peer experts from the region on the efforts of national reporting.
BY INVITATIONS ONLY
Area:
Climate adaptation, Climate mitigation, Climate support, Climate transparency, Cross-cutting, Data collection and management, Institutional arrangements, Loss & damage, NDC tracking, Update of national documents
Sector:
AFOLU, Cross-cutting, Energy, Transport, Waste
Agency:
CBIT-GSP, UNEP, UNEP-CCC, UNFCCC
Country:
Cook Islands, Fiji, Kiribati, Marshall Islands, Micronesia (Federated States of), Nauru, Niue, Papua New Guinea, Samoa, Solomon Islands, Tuvalu, Vanuatu
Transparency Network:
Pacific