Third episode: IFSA and FAO deliver the webinar series on forests and climate transparency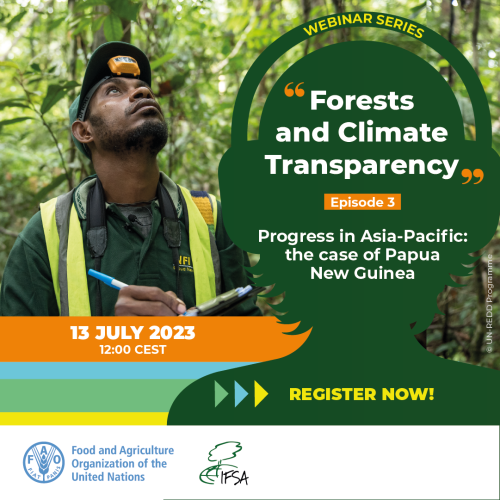 Countries have made significant progress in developing and operationalizing their national forest monitoring systems (NFMS) to comply with the measurement, reporting, and verification (MRV) framework under the United Nations Framework Convention on Climate Change (UNFCCC). These systems provide better forest data to support decision-making and domestic policies, implementing the enhanced transparency framework (ETF) under the Paris Agreement. It is crucial to make these efforts visible and inform students and young professionals about the advances in data transparency and forest inventories. This knowledge empowers them to  help adapt local knowledge and practices to a changing world
The FAO Sub-Commission of the International Forestry Students' Association (IFSA), in collaboration with the FAO Forestry Division (NFO), has organized the "Forests and Climate Transparency" webinar series. These series will present case studies resulting from the "Building Global Capacity to Increase Transparency in the Forest Sector (CBIT-Forest)" project, funded by the Capacity Building Initiative for Transparency (CBIT) trust fund of the Global Environment Facility (GEF). Representatives of national institutions involved in the work carried out in Asia, Africa and in the Latin American regions will present the case studies.
Episode 3: Progress in Asia-Pacific, the case of Papua New Guinea
When: 13 July 2023
Time: 12:00 CEST
Register in advance for this meeting (third episode): https://www.fao.org/in-action/boosting-transparency-forest-data/news/detail/en/c/1636707/
Join us for these informative webinars to learn about the advances in forest data transparency and how different countries are tackling the challenges of monitoring and managing their forests under the Paris Agreement. Don't miss out on this unique opportunity to learn about the importance of forests and climate transparency in the global context.
Area:
Climate transparency, Data collection and management