FAO Webinar: Forest Monitoring for Climate Action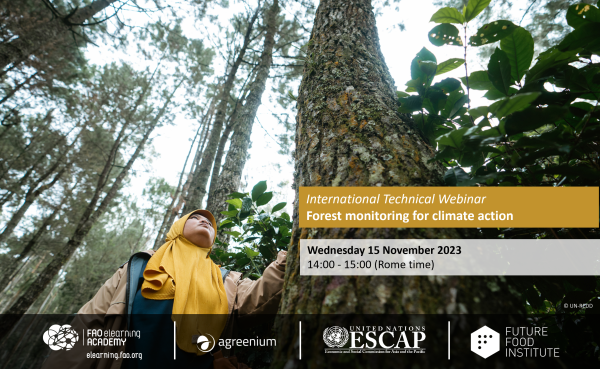 Please register for the webinar on Zoom here. 
The link to the online announcement of the event can be found here.
BACKGROUND
Reducing deforestation, restoring forests, and sustainable forest management are vital pathways for achieving 2030 global goals. Access to accurate forest data is crucial for international commitments on deforestation, restoration, and climate action. FAO is a global leader on forest and ecosystem monitoring, supporting countries to build robust national forest monitoring systems. The webinar "Forest Monitoring for Climate Action" launches a FAO eLearning Academy series of courses on forest monitoring for climate action, presenting testimonials from professionals about their experience with the courses and their usefulness for their work.
This international technical webinar is part of the series organized by the FAO elearning Academy, Agreenium (l'alliance de la formation et la recherche pour l'agriculture, l'alimentation, l'environnement et la santé globale), the United Nations Economic and Social Commission for Asia and the Pacific (UN-ESCAP) and Future Food Institute (FFI). These webinars are an opportunity for all of us to share experiences and lessons learnt, discuss challenges, and propose innovative solutions and models. They aim to provide a holistic and comprehensive view of current trends in thematic areas related to global challenges, by combining development, research, and innovation perspectives.
The main objective of these technical webinars is to give practitioners the opportunity to interact with international experts, United Nations officers, University professors, researchers and fellow participants, throughout the world. Webinars can be attended as interactive online sessions on Zoom, where sharing perspectives and asking questions to experts is encouraged. These sessions are also recorded and therefore available at any time, through the FAO elearning Academy: elearning.fao.org.
OBJECTIVES OF THE SESSION
Launch the multilingual forest monitoring series of courses;
Share testimonials from users who took the various courses of the series; and
Describe the future forest monitoring learning opportunities offered by FAO.
SPEAKERS
This technical webinar will be delivered by Ms Tiina Vähänen (FAO),  Mr Julian Fox (FAO),  Ms Rocío Cóndor Golec (FAO), Ms Fiona Stringer (UK DESNZ-FCDO) and Ms Cristina Petracchi (Leader of the FAO elearning Academy). The webinar will also see the participation of testimonials who took the courses, namely Ms Alejandra Guevara from FAO Ecuador and Mr Jacob Amoako from the Forestry Commission of Ghana. The webinar will be moderated by Ms Ghislaine Gill, MRV Specialist at FAO.
LANGUAGE OF THE SESSION
English
HOW TO ATTEND
The webinar is free and open to everyone, provided you have the link to the platform.
To join the webinar session on Zoom, kindly register here.
We suggest you to use Google Chrome in order to join the webinar.
We also recommend you to check your time zone here.
 
Area:
Climate transparency, Data collection and management, Sustainable development
Sector:
AFOLU, Biodiversity